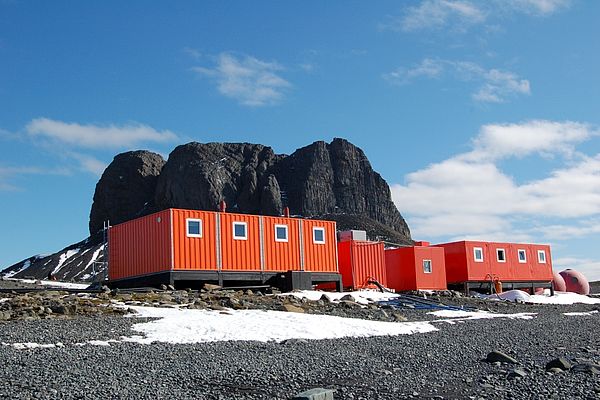 Background
Introduction
Dallmann Laboratoty at Base Carlini, Alfred Wegener Institute (AWI) + Direccion National Antartido (DANN/IAA)

The Dallmann Laboratory is located at the Argentinean station Carlini at the Potter Cove on Potter Peninsula, the southernmost extreme of King George Island. The Potter Cove is surrounded by ice fields, glaciers and the prominent Three Brothers Hill.

Potter Peninsula is an Antarctic Specially Protected Area (132).

The marine environment is a combination zone of glacier fronts, rocky shores and soft bottom areas. The coastal areas host bird colonies, marine mammal breeding areas and several vegetal species.

The Dallmann Laboratory was opened in 1994 by the Alfred Wegener Institute and the Instituto Antártico Argentino. The laboratory is personned with German and Argentinian personnel, and European guests, from October to March; during the winter months, one person provided by the Instituto Antártico Argentino (IAA) / Dirección National del Antártico (DNA) conducts measurements and maintains the laboratory.

The main research fields are marine and terrestrial biological studies, solar UV, ecophysical investigations, geological field works.

The Dallmann Laboratory can be reached by ship and aircraft via Bellingshausen Station.
Operator
| | |
| --- | --- |
| | Alfred Wegener Institute |
| | Government |
| | Alfred Wegener Institute (AWI) + Instituto Antarctido Argentino (IAA) |
| | |
Partner Institution
| | |
| --- | --- |
| | Yes |
| | Instituto Antártico Argentino (IAA) / Dirección National del Antártico (DNA) |
| | Argentina |
Location
| | |
| --- | --- |
| | CO1201 |
| | 62° 14.2565' 0'' S |
| | 58° 40.003' 0'' W |
| | Antarctic Peninsula |
| | A - Antarctic Peninsula northern geologic |
| | 1 North-east Antarctic Peninsula |
| | 10 |
| | Ice-free ground |
Climate
| | |
| --- | --- |
| | Continuous |
| | Coastal Antarctica |
| | Snow |
| | 36 |
| | N |
| | 01/01/1991 to 31/12/2009 |
| | -2.4 |
| | 2 |
| | 2 |
| | 1 |
| | -2 |
| | -4 |
| | -6 |
| | -6 |
| | -7 |
| | -4 |
| | -3 |
| | -1 |
| | 1 |
| | January; February; December |
Features
| | |
| --- | --- |
| | Coast; Ice cap or glacier; Nunatak; Sea; Sea ice |
Disciplines
| | |
| --- | --- |
| | Climate studies; Ecology; Environmental sciences; Fisheries management; Geology; Glaciology; Marine biology; Microbiology |
Human Activities
| | |
| --- | --- |
| | Yes |
| | see Base Carlini |
| | No |
| | Yes |
| | Yes |
| | Yes |
Infrastructure
| | |
| --- | --- |
| | CO1201 |
| | 133 |
| | 118 |
| | Biology; Chemistry; Scientific diving |
| | 0 |
| | 0 |
| | 16 |
| | yes |
| | yes |
| | Fossil fuel |
| | 220 |
| | 24 |
| | no |
Scientific Equipment
| | |
| --- | --- |
| | Laboratory fully equipped. |
| | Providing Liquid Nitrogen, Running Decompression Chamber. |
| | Yes, by Argentina at Carlini Station. |
Medical Facilities
| | |
| --- | --- |
| | Yes |
| | 0 |
| | Medical doctor; Physician assistant |
| | 0 |
| | 0.2 |
| | No |
| | No |
Vehicles
| | |
| --- | --- |
| | See Carlini Station. |
| | See Base Carlini |
Communications
| | |
| --- | --- |
| | Computer; E-mail; Internet; Printer; Satellite phone; VHF |
Aircraft landing facilities
Transport and freight
| | |
| --- | --- |
| | Airplane; Helicopter; Ship |
| | 2 |
| | March; November |
| | 6 |
| | January; February; March; November; December |
Pictures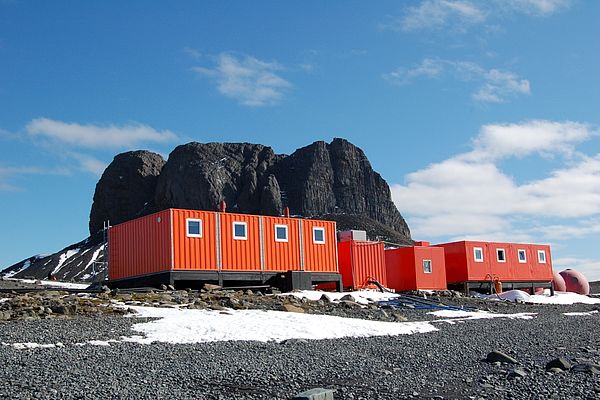 Dallmann building AWI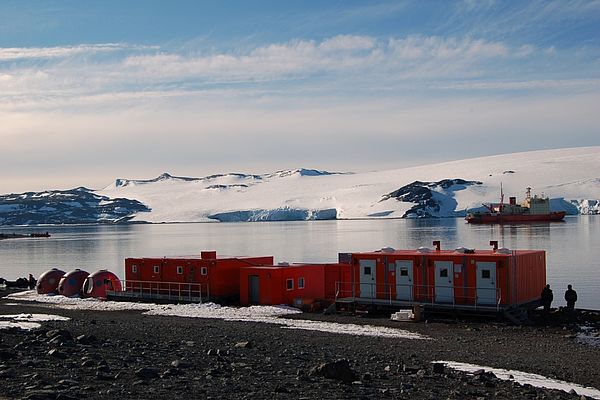 Dallmann building AWI