SIOS's Airborne remote sensing platforms
LAST UPDATED: JULY 10, 2020
SIOS actively supports usage of airborne remote sensing platforms (aircraft and drones) for research purposes. The technical and operational details of the available airborne platforms are as follows:
The SIOS Research Aircraft - Dornier 228 LN-LYR
SIOS member institution NORCE has installed and tested a suite of optical imaging sensors on the Lufttransport Dornier aircraft stationed in Longyearbyen, as part of the SIOS-InfraNor project. The aircraft is configured to acquire aerial imagery and hyperspectral remote sensing data in addition to its normal transport operation. The aircraft flies regular flights from Longyearbyen to Ny-Ålesund and Svea, as well as around 20 flights a year to Station Nord in Greenland. The aircraft is also available to charter.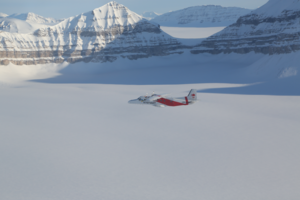 Remote sensing capacities of the aircraft
Optical Payloads:
Hyperspectral imager with 32 degrees field of view

1800 spatial pixels, 186 spectral bands in the range 400-1000 nm (~3.26 nm spectral sampling)
~600 meter across track coverage from 1000 m altitude, with ~30 cm ground resolution.

Medium format RGB camera
Other Payloads:
GNSS Applanix POS AV 410 navigation system.
Radionor CRE2-179-UAV broadband radio (5.862 GHz)

Up to 15Mbit/s and 200km range
Useful for uploading data from buoys and sensor arrays in remote areas

Kongsberg Seatex AIS-300

Record and transmit AIS data
Products:
Georeferenced product

By proper postprocessing of the navigational data, direct georeferencing with an accuracy of up to 0.5-pixel accuracy is achievable.
Space prepared for future expansion with:
Hyperspectral (SWIR 900 – 2500nm)
SAR sensor
Thermal camera
Laser scanner
Operational capacities of the aircraft:
Normal range: 2400 km
Max endurance: 6:45 hours
Max take-off mass: 6200 Kg
Max altitude: 15000 feet
Cruise speed: 180 knots
Seat capacity: 2 pilots / 17 passengers
Unmanned aerial vehicle (UAV)/ drones for remote sensing applications
SIOS provides opportunity to use drones funded by the SIOS-InfraNor project, and other drones available with UNIS drone group & NORCE. NORCE has an extensive RO3 operator permit for drone operation. Under this operator permit there is an operating agreement for UNIS to operate, and personnel at UNIS have been trained for this purpose. Presently, DJI's multicopters (Inspire 1 and 2, Mavic Enterprise Dual and Zoom, Phantom 4 pro) are available for conducting operations. With these types of drones, flights up to 20 minutes are possible and the operating distance about 1-2 Km.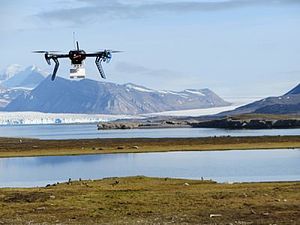 Remote sensing capacities of drones
Drones are equipped with optical imaging sensors – from visible range to infrared. Additional sensor – Intermet iMet XQ2 (sensor including atmospheric pressure, temperature and humidity, GPS coordinates, rechargeable battery and data logger) – can be added to Mavic or Phantom to measure air temperature and humidity profile in atmospheric boundary layer up to 500 m above groundlevel. The ground resolution depends on the height of the multicopter. Each flight session (20 min) can collect up to a few gigabytes (GB) of images (raw data).
List of drones available for operation
Please contact remotesensing@sios-svalbard.org if you need more information on usage of drones and Dornier for your project activity.
For further information on SIOS, please visit https://sios-svalbard.org/.