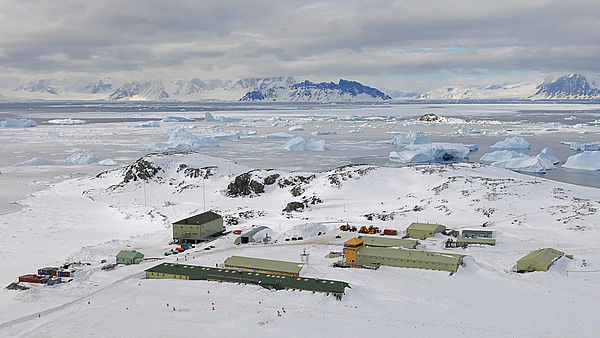 Background
Introduction
Rothera, British Antarctic Survey (BAS)

Rothera research station is situated on Rothera Point – a rock and raised beach promontory at the southern extremity of the Wormald Ice Piedmont on the south-east of Adelaide Island to the west of the Antarctic Peninsula.

Flora mainly limited to lichen. Breeding colonies of South polar skua, terns and Imperial Cormorants in the area. Large transitory populations of other bird species (petrels, gulls etc). Regular visits from Adélie penguins although no breeding colonies close by. Occasional sightings of Chinstrap and Emperor penguins. Regular sightings of Weddell, Crabeater, Fur, Elephant and Leopard seals. Regular sightings of Minke whale and Orca, occasionally Humpbacks.

Station occupied continuously from 25 October 1975. Phased construction programme since that time. Runway and wharf constructed in 1991/92.

Marine and terrestrial biology, geology, glaciology, meteorology and upper atmospherics.

All human activity relates to scientific research or support of scientific research.

4-5 hour flight from Falkland Islands/South America.

4-5 days ship passage from Falkland Islands/South America.
Operator
| | |
| --- | --- |
| | British Antarctic Survey |
| | Government |
| | British Antarctic Survey (BAS) |
| | |
Location
| | |
| --- | --- |
| | CO2805 |
| | 67° 34.1717' 0'' S |
| | 68° 7.4933' 0'' W |
| | Antarctic Peninsula |
| | A - Antarctic Peninsula northern geologic |
| | 4 Central south Antarctic Peninsula |
| | 16 |
| | 0 |
| | 0 |
| | Ice-free ground |
Climate
| | |
| --- | --- |
| | Continuous |
| | Coastal Antarctica |
| | Snow |
| | N |
| | -3.7 |
| | 0.7 |
| | -0.6 |
| | -2.1 |
| | -1.4 |
| | -3.5 |
| | -5.6 |
| | -6.7 |
| | -8.5 |
| | -6.6 |
| | -5.5 |
| | -3.9 |
| | -0.9 |
| | 6.6 |
| | -20.2 |
| | January; February |
Features
| | |
| --- | --- |
| | Bluff; Coast; Crevasse; Ice cap or glacier; Low artificial light pollution; Low humidity; Melt streams; Mountain; Nunatak; Permanent snowpatches; Rock; Sea; Sea ice; Seal colonies; Snow |
Disciplines
| | |
| --- | --- |
| | Atmospheric sciences; Climate studies; Ecology; Environmental sciences; Geology; Geophysics and seismology; Mapping; Marine biology; Microbiology; Oceanography |
Human Activities
| | |
| --- | --- |
| | Yes |
| | Station permanently occupied since 1975 |
| | Yes |
| | Yes |
| | Yes |
| | Yes |
Infrastructure
| | |
| --- | --- |
| | CO2805 |
| | 7200 |
| | 450 |
| | Biology; Chemistry; Scientific diving |
| | 3600 |
| | 136 |
| | yes |
| | yes |
| | Fossil fuel; Renewable |
| | 240 |
| | 24 |
| | no |
Medical Facilities
| | |
| --- | --- |
| | Yes |
| | 31 |
| | Medical doctor; Non-medical trained person |
| | 2 |
| | Basic; Dental |
| | Diagnostic x-ray; Hyperbaric Recompression Chamber; Telemedicine |
| | 100 |
| | 22 |
| | No |
| | Yes |
Vehicles
| | |
| --- | --- |
| | Three 6.0m rigid inflatable (console), one 4.8m rigid inflatable (tiller), one 6.4m HDPE workboat (console). |
| | Thirty eight skidoos, three tractors, four loaders (forklift/bucket capability), one snowcat, one bulldozer, one crane, six utility vehicles, one ATV, pick-up truck (fire response). |
Workshop facilities
| | |
| --- | --- |
| | Mechanical; Metal workshop; Wood workshop |
Communications
| | |
| --- | --- |
| | Computer; E-mail; Fax; Internet; Printer; Satellite phone; Scanner; Telephone; VHF |
Aircraft landing facilities
| | |
| --- | --- |
| | 2 |
| | 900 |
| | 40 |
| | Rwy 18/36 Mag, Elev. 13', Wheel only |
| | Snow |
| | No |
Transport and freight
| | |
| --- | --- |
| | Airplane; Ship |
| | 6 |
| | January; February; March; October; November; December |
| | Pier/Jetty |
| | Skiway to northwest of station |
| | January; February; March; October; November; December |
Pictures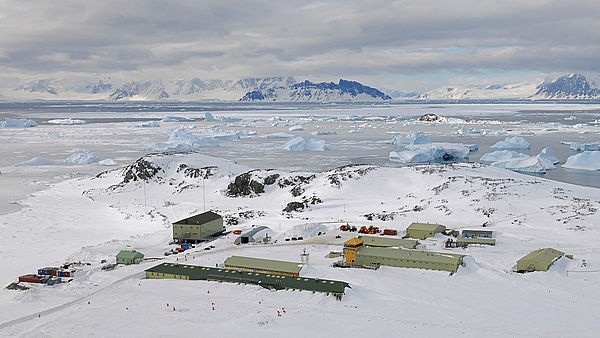 Rothera Research Station